If you've ever experienced redness, gritty, burning, or dry sensation in your eyes, you may have dealt with dry eye syndrome. This is a common condition that affects many Canadians, and it can be a frustrating thing to deal with every day because of the wide range of symptoms and issues it can cause.
Dry eye syndrome can cause blurry vision, burning sensations, and several other symptoms. This happens because dry eye syndrome affects the production of your tears—which play a big part in keeping the front surface of your eyes healthy. Fortunately, dry eye can be managed with the help of a comprehensive eye exam from a trained optometrist.
What Is Dry Eye Syndrome?
Dry eye syndrome, more commonly called dry eye, is a condition caused by a problem with your tears. Your tears are naturally responsible for keeping your eyes healthy, hydrated, and clear, but they don't always work perfectly.
Your tear film is made of 3 layers:
The water, or aqueous, layer, which hydrates the eye and helps keep it moisturized
The mucus layer, which helps keep the surface of the tear film smooth while keeping the tear attached to the eye
The oil layer, which helps stop the tear film from evaporating too quickly
When a problem develops with one of these layers—most often the oil layer—your tears can evaporate too quickly or you may not produce enough tears, leading to your eyes feeling dry and gritty.
What Causes Dry Eyes?
Typically, dry eyes are caused by problems with tear production. However, this isn't the only cause. It can develop due to:
A particularly dry, dusty, smokey, or humid environment
Some medical conditions, such as diabetes or Sjögren's syndrome
Some medications, including antihistamines, antidepressants, and birth control
Damage to the eye
One of the more common causes of dry eye syndrome is something called meibomian gland dysfunction. The meibomian gland is the gland that produces the oils used for tears. This production can sometimes be slowed or blocked entirely, leading to tears that evaporate too quickly.
If you're feeling like your eyes are dry or burning, you should visit your optometrist for a comprehensive eye exam. We can provide an in-depth examination of your eyes and help determine what's causing your symptoms.
What Are the Symptoms of Dry Eye Syndrome?
Typically, dry eye causes a burning, gritty feeling in the eye—like there's sand stuck in your eye. This is most often due to the eye being dried out or unprotected by a proper tear film.
Other common symptoms of dry eye can include:
Eye strain
Redness
Irritation
Light sensitivity
Difficulty driving at night
Watery eyes
Blurry vision
Burning sensation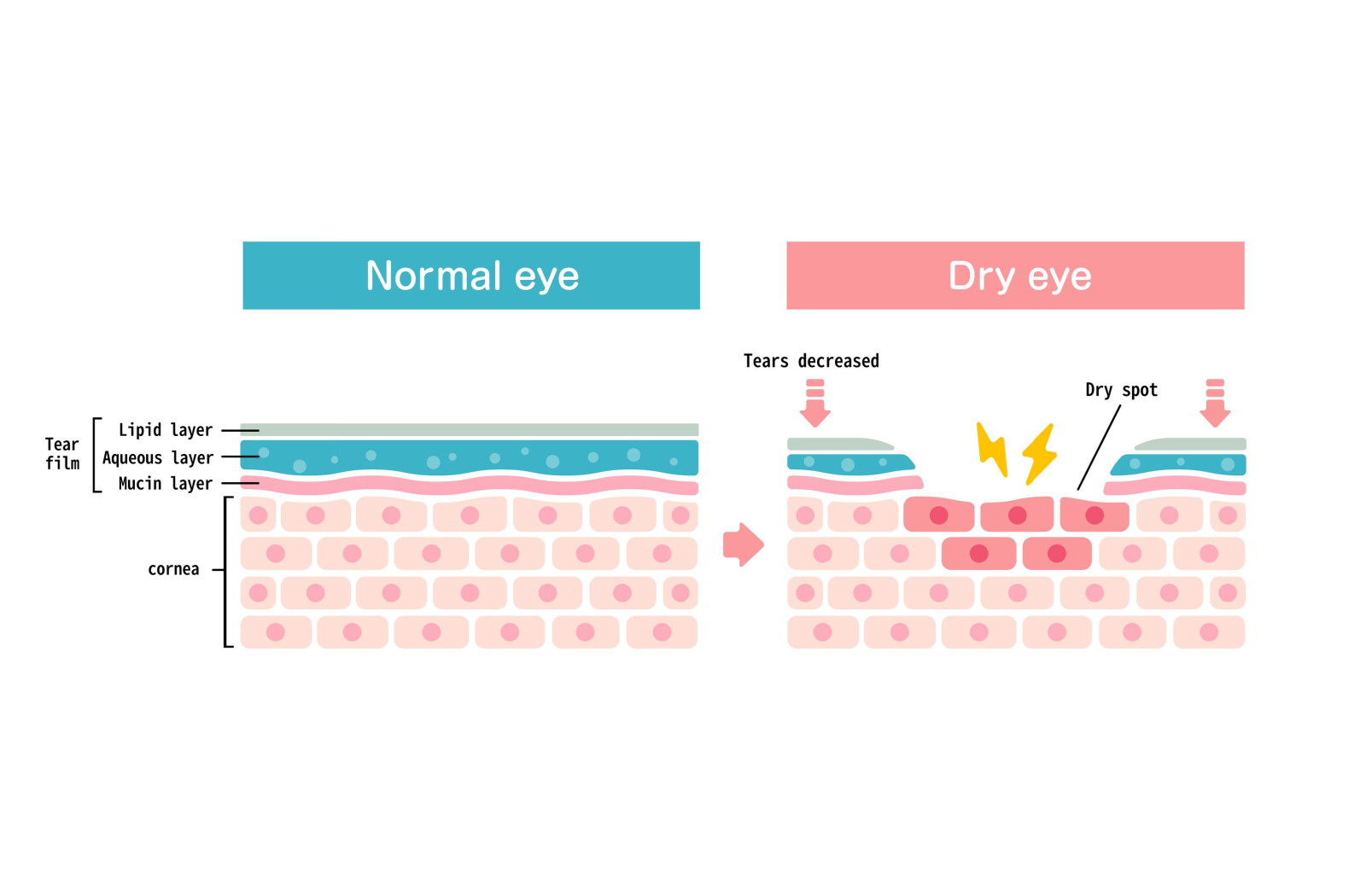 It is common to experience several of these symptoms if you're dealing with dry eyes. In some situations, it can even cause excessively watery eyes, even though this seems counterintuitive. This is due to the brain and eye overcompensating for problems with your tear film. Your eye may try to produce more tears. However, the extra tears still do not have the correct balance of mucin, lipid, and water so they do not actually lubricate and protect your eye.
Dry eye syndrome can also lead to blurry vision in some situations, making it even more frustrating. Light enters the eyes through the tear film, and then the cornea, and then before refracts (bends) to a single point at the back of the eye. But if there's a problem with your tear film, it can lead to problems with your cornea too, and this causes the light to scatter and create blurry images of the world around you.
Fortunately, there are treatment options available to significantly lessen these symptoms.
How Is Dry Eye Syndrome Treated?
You have several options for getting dry eye relief. Some of the treatments and products we recommend for our patients include:
Prescription or over-the-counter eye drops designed to work as artificial tears
Heated mask treatment, where a mask is placed over the eyes and meibomian glands to heat the area gently and stimulate natural oil production for your tears
Eyelid scrubs to help clear out any potential gland blockages
Adding omega-3 fatty acid supplements to your daily routine, as these can help promote eye health.
Blinking exercises
These treatments are designed to address the underlying causes of dry eye syndrome rather than just the symptoms themselves, so you can produce healthy tears that keep your eyes moisturized and protected.
Get Help for Your Dry Eyes
At Downtown Vision Care, we know that dry eyes can be frustrating. No one wants to deal with that burning and gritty feeling every day. We're here to help treat your dry eye syndrome and give your eyes the care they deserve.
Talk to one of our caring team members today to request an appointment with us and get the relief you deserve from your dry eyes!